Distribute maps, models, and tools via the Web in a way that fits well into your workflows. SuperGeo offers numerous Server GIS solutions to fulfill the demands of corporate Intranets and the needs of worldwide Internet access.
What Server GIS software do we provide?
SuperWebGIS
SuperWebGIS

, the internet map server software, can help organizations to deliver dynamic maps and GIS data via the Web. With the ubiquitous internet, the spatial data can be shared limitlessly.
SuperGIS Server
SuperGIS Server

gives you the ability to create, manage, and distribute GIS services over the Web to support desktop, mobile and Web mapping applications.
SuperGIS Image Server
SuperGIS Image Server

gives you the capabilities to manage, produce, and exploit large numbers of imagery and rasters. It immensely simplifies image management by allowing users to easily publish large image collections.
SuperGIS Network Server
SuperGIS Network Server offers you advanced network data analysis capabilities via Web services. The powerful network analysis tools can be deployed for web applications without installing additional GIS software on the client side.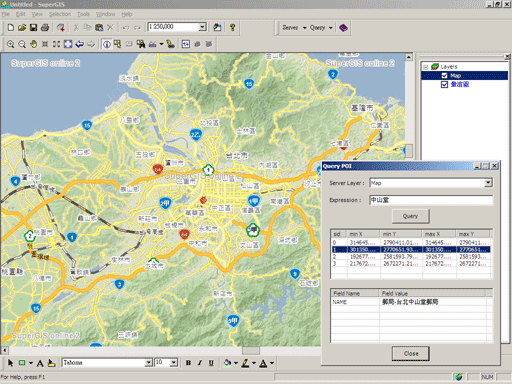 Server GIS: Share maps and GIS capabilities over the web.