Overview
Desktop GIS provides comprehensive and powerful GIS capabilities to assist you in performing advanced spatial analysis, spatial data creation, and visualize results on professional-quality maps. Supergeo offers professional GIS product selections to fulfill GIS experts' needs and help them to accomplish diverse GIS tasks.
What Desktop GIS software do we provide?
SuperGIS Desktop
SuperGIS Desktop

is geographic information system (GIS) software for creating, visualizing, managing, and analyzing geographic data. Using SuperGIS Desktop, you can easily represent complex geographic phenomena of your data and make better decisions in a efficient way.
SuperGIS Desktop Extensions
SuperGIS Desktop has many optional SuperGIS Desktop Extensions to provide specialized tools and additional capabilities to enhance your system. SuperGIS Desktop Extensions are listed below: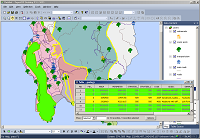 Comprehensive GIS tools assist you in finding an appropriate solution to solve your geographic problems.